So butchery is awesome (Chef/DM here). It takes focus, speed and skill… practice is a must. In the real world, we work cold and quick so we don't get sick. And in a very hot setting the risks go up considerably. Time and temperature; wet and dry mediums; soft meats versus muscle tissue all have their place in providing safe food. The temperature danger zone, where most microorganisms thrive is between 40 and 140 degrees on the Fahrenheit. Well, Athas is hot. Ideal for spoilage and illness. A distinct lack of water to wash one's hands and equipment; no refrigeration or ice commonly found. In Athas, it is even more important to avoid contamination of a carcass with fecal matter. So if intestines aren't immediately used due to an inability to wash properly, perhaps other offal such as lights (lungs), liver, hearts, etc… would be immediately cooked into a bread or dough, especially in areas where production is possible. This would either we a rough chop/sausage mix or perhaps even whole. The blood itself could possibly replace some of the water or other liquid in the mix.
Salt becomes a must then, as it slows microbial growth and encourages preservation. Luckily, that is easy enough to come by. Immediate cooking is a good idea as well, as long as a fuel source is easily found. Ashes from fire could also be used as an antiseptic surface. I've described caravans using slates of obsidian left into the sun to form a plancha-like cooking surface, to be scrubbed done with fine sand or salt after use. While the natives wouldn't be aware of microbiology, trial and error throughout the ages would probably mirror the real world.
The other thing that most production centers would value is the evening time. Butchery is a helluva lot more safe when the sun sets in Athas, and allows novice meat carvers the luxury of more time to practice their craft. This might even be a way to tell if someone has reached a Journeyman status - a day cutter being more proficient than a night cutter.
The other huge thing a butcher would worry about is the pests. Spilt blood would attract all sorts of things under the crimson sun. Not just flies, worms, or the general type, but scavengers and other predators. Also, keep in mind that the larger the beast being used for meat - the more organisms call the meat home - intestinal worms, ticks, bugs, mites… all the parasitic assholes that generally live the nomadic life. Any real life fisher knows that a large swordfish, shark or grouper should probably be cooked a bit longer than a small river fish - worms are often harmless, but not always. I know an old friend that ate some questionable ceviche in Central America and had a 6 foot tapeworm found growing in her - the only way they found it was she was getting incredibly sick whenever she drank alcohol, which apparently the worm did not like getting into it's system. In Dark Sun, some of these things could be psychic drains as well…
The other key theme in butchery in Dark Sun is the utilization of hide for armor, clothing or to build necessary tools. Curing and tanning would be much the same - but perhaps sped up somewhat due to hot, dry conditions. Sand would be used in a lot of the scrubbing & washing steps, as it's common, plentiful and easy enough to dispose of. (Just remember that some of it hides life as well.) Some of the indigenous plant life or animal life (ock'n) would have resins or extracts that could also be used in these processes.
In my current game, my players decided to butcher down a bulette - not only for the plates, but for the meat.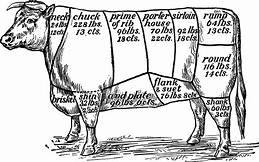 If you take in consideration that a steer led to slaughter is generally between 1100-1400#s this puts this pic into proper perspective. So a bulette, weighing roughly 3.5-4x that has a huge amount of meat - assuming a similar bone to usable meat ratio. I guess the other thing to consider is in the real world we raise the animal to be meat. We slaughter young to keep it from getting tough, make sure it's generally from animals that aren't subjected to excessive labor, etc… you can tell in beef especially, that muscles that are used more often are deeper red in color. That's why veal is so pale. In fact, red veal is a sign the farmer or processor is cutting corners or not following procedure properly. In the case of the land shark, the meat would most likely be tougher. Definitely something that needs to be cut thinly or slow cooked over a great period of time. Taken from such a large beast that harbors possible parasites - long cooking would be safer… or better yet, the whole beast cut thin and made into jerky would be the most utilitarian approach.