In case you didn't know about it already, AthasCon will be happening at the end of this month.
To celebrate this wonderful creation, and to mark the recent release of 5e Spelljammer (and its references to Doomspace), the folks at the Pristine Tower Development Group and myself are launching at the event a fully updated and illustrated version of Adam "Night Druid" Miller's original Crimson Sphere Dark Sun/Spelljammer crossover supplement!
For those not familiar with the Crimson Sphere, this book describes what Athasian wildspace is really like. Within the book you will find:
How and why the Crimson Sphere has become so isolated from the rest of Spelljammer space
The full cosmology of Athaspace, including the differences between Athaspace and Doomspace (the terrible future fate that awaits the system).
The factions of wildspace (including the last of the spacefaring cousins of the Sorcerer Kings, the Void Wardens), and the ships they pilot
The last known humanoids left on Athas who are still capable of creating and piloting space-worthy craft.
Here is a little teaser: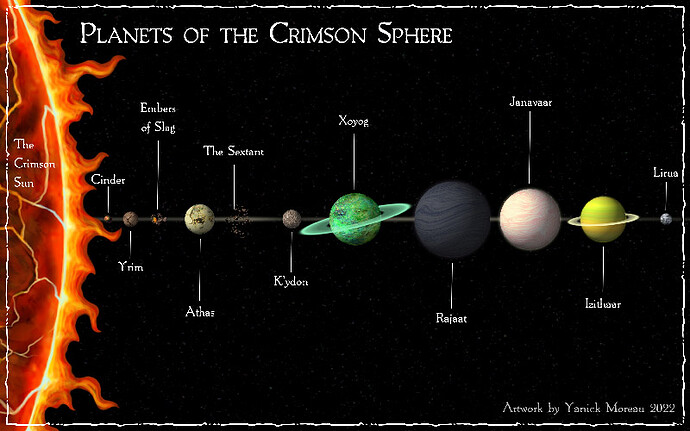 The team have damned the torpedoes and have been pushing full speed ahead on this release for the past few months, and we're excited to release it to the group.
Come join our launch party on Saturday 29 October at 9:00 PM GMT (4:00 PM EST) on the AthasCon Discord server in the Arena of Tyr, and be the first to receive the download link for the new release!